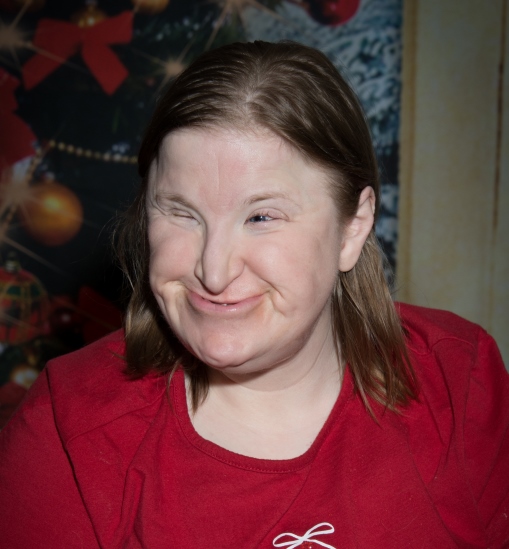 For the past 17 years,
Katie
has spent the majority of her waking hours at Merrick. She recently transitioned into the Alternative Services (AS) program after having some struggles in the Utility Services division. Now that she is "retired" and choosing to spend her time with more therapeutic activities, staff and her family members have noticed a distinct difference. "Katie has grown leaps and bounds in personality since transferring to AS. Her social skills have improved significantly allowing her to go from a person feared by others to a person accepted by others and even invited into group activities. She has become more flexible, willing to reason with staff about when and where to do certain things and is gaining trust in others. She has also made a good friend in a fellow client, and they talk, laugh, and just be silly with each other for hours," reported Program Director
Dede Hauck
. 
Katie's love of music makes the music therapy program offered at Merrick a highlight of her week. She has an uncanny ability to mimic sounds and enjoys all forms of music. Since her transition to AS, her family said she is more expressive, communicates with longer sentences and is sharing more of her emotions and choices of activities. 
Because Merrick is able to offer different options, Katie was able to find a fit that has let her blossom and become more of her true self. When asked how she likes Merrick, Katie replied joyfully, "Merrick is cool!" We couldn't agree more!