Ben D. – Client Spotlight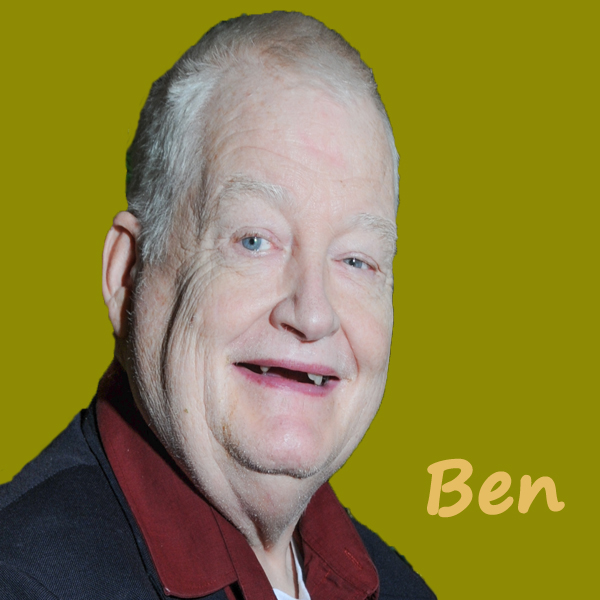 Ben is Irish through and through. His surname means "gracious defender"—and that he is–as Ben's eyes twinkle when he talks about his Irish heritage whether it is his coat of arms, folklore, traditions, songs, or the Dublin trip he took in his youth. It is not unusual for him to be wearing a Celtic T-Shirt, sweatshirt, caps, or pins. When he walks to the used bookstore in downtown North St. Paul, he most likely will bring back a book, CD, or DVD about Ireland. He is interested in playing the Bodhran, an Irish drum recently purchased for him to tap out his favorite Irish songs.
He has been with Merrick for over 33 years and held positions at the Bubbling Kettle, Ground Round, and Pizza Hut. Currently, Ben is enrolled in Adult Day Services (ADS) located in North St. Paul. He spends his days going to the library, playing pool at Sidewinders, going to garage sales, Wii bowling, exercising, painting, going out for coffee, checking out the vintage cars parked outside the building on Fridays, and going on tours around the Twin Cities.

On a weekly basis, he is involved in self-advocacy activities and loves to attend conferences and meet legislators at the Capitol. At 68 years of age, he exclaims many times during the day that he is happy that he is retired and he can enjoy this stage of his life. When not at ADS, he loves to spend time with his friend Kathie and her family, traveling, watching "The Rifleman", shopping, spending time at garage sales, and going to concerts.

Ben has a strong sense of volunteerism. At least once per month, he helps keep the grounds of the North St. Paul high school looking nice. Next year, he would like to volunteer as a greeter at the Irish Fair. Ben is also interested in helping at his church. He absolutely loves greeting and giving tours of the ADS program. He wears a name tag and proudly talks about the activities and goings-on of the program. His gift for gab and broad smile make newcomers feel welcomed. So, stop on in at ADS and get to know Ben.