Tou V.- Client Spotlight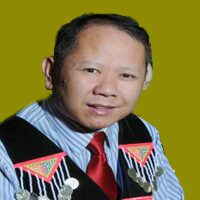 In a van-washing bay at Merrick's main program site in Vadnais Heights, a relationship between a client and longtime job coach demonstrates that communication takes many forms. Tou, a client at Merrick since 2003, experienced hardships in life including losing family members in Laos before moving to the United States. Now, he has found a home at Merrick.
Along with a developmental disability, Tou is also hearing impaired, coupled with not being a native English speaker, which could make communicating with others a frustrating experience. Through his relationship with Merrick support service staff Dan Lind, who also happens to have a hearing impairment, he has found someone willing to try. The pair communicates through a mix of American Sign Language, Hmong Sign Language, and Tou's own gestures. Just as verbal communicators come up with slang and inside jokes, so do people who communicate through signing.
Dan said about working with Tou, "He is dependable and a hard worker. I know the job is done right when Tou is on duty." His friends at work describe him as animated, strong-willed, funny, and persistent. Tou, proud of his heritage, likes to share upcoming events in the local Hmong community with staff and co-workers. He is passionate about music, art, food, dance, and sporting events from his native country. He dreams of marrying a beautiful woman and living out the American dream. Tou strongly values being a "teacher" by sharing with others about his culture and sign language. As Kao Kalia stated in The Latehomecomer; A Hmong Family Memoir, "Once we are, we will always be."—Tou has captured our hearts inspires us all to live more fully.
It is through these unique relationships between clients and staff that Merrick truly lives out its mission to empower adults with disabilities and guide them toward reaching their goals and dreams.