Careers at Merrick
"The most rewarding part of my job is helping clients achieve their goals." - Donna

"When a client reaches their production goal, you can see the joy in their faces." - Joann

"Society needs to realize how essential DSPs are in supporting the needs of the clients." - Brady
Join Our Team
Working at Merrick and supporting adults with intellectual or developmental disabilities (I/DD) is much more than just earning a paycheck. Working here allows you to make a meaningful difference in someone else's life every program day. Feel a true sense of accomplishment supporting adults with I/DD as they strive to realize their goals and dreams.
Please consult our list of current job openings and apply using your resume or submit an online application. Alternatively, you may download the application as a PDF document and submit it via email to MikaylaW@MerrickInc.org.
Our Commitment to DEI
We are dedicated to building a diverse team of employees who have an ongoing commitment to strengthening diversity, equity and inclusion in the workplace. If you are excited about one of these roles and you feel that you would be an asset to this position, regardless of your past experience, we highly encourage you to apply. We value people for all life, education and work experience.
Hiring Offers:
Monday – Friday, 7:00 am – 3:00 pm set schedule
$600 – $1,200 hiring bonus, based on experience (DSP positions only)
With a verified paystub, DSP pay and PTO matching up to position maximum
Multiple Medica health insurance options
Up to a 3% retirement match
Free dental insurance for the employee
Free life insurance for the employee and all dependents
A great work environment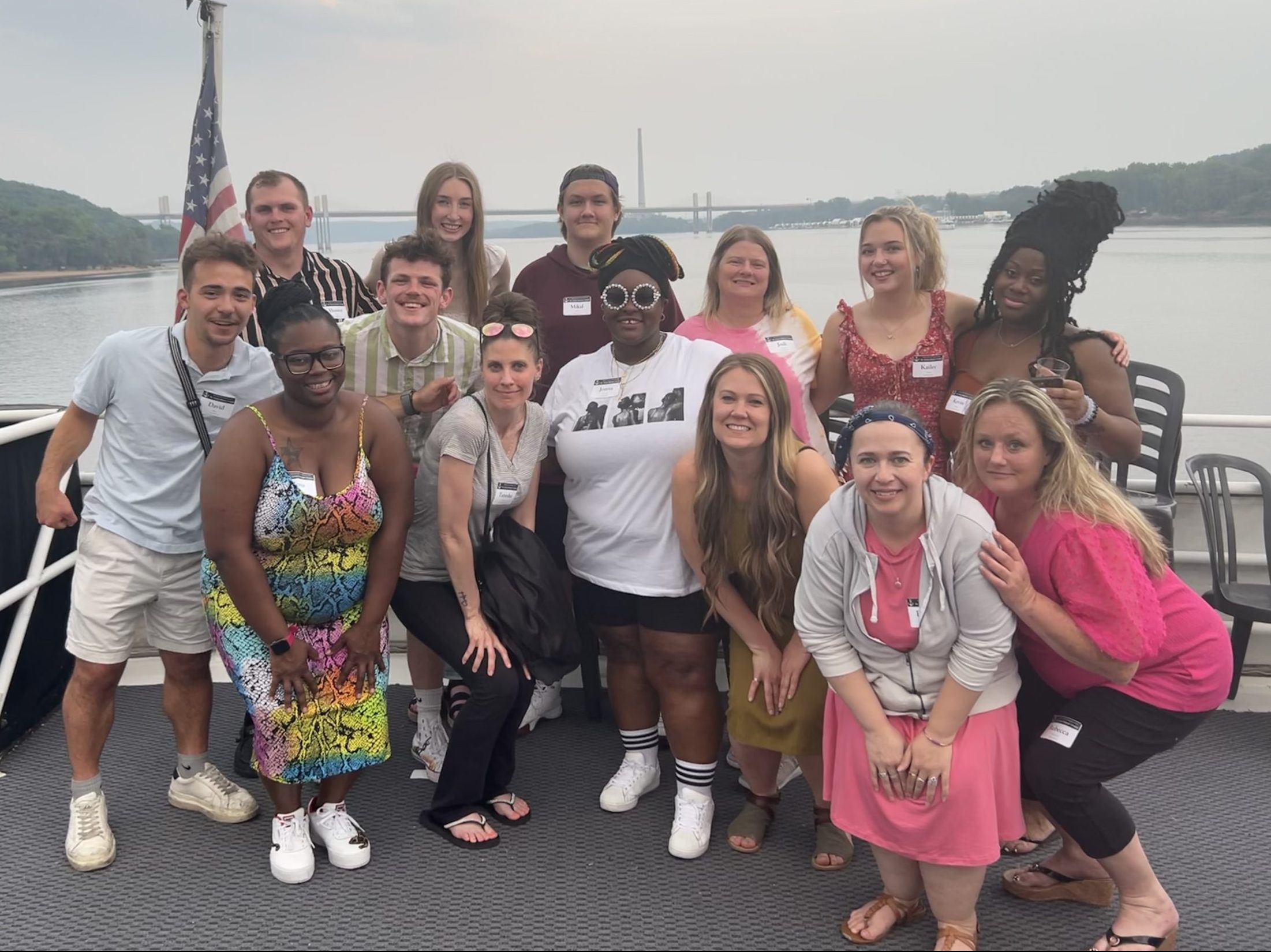 Employees on the Majestic Star Cruiseliner
Current Openings
If you have questions about job openings, please contact Mikayla Wickersham at MikaylaW@MerrickInc.org or (651) 789-6231.
Company Motto
As you enter Merrick, please choose to make today a great day. Your coworkers and the clients will be thankful. Find ways to play. We can be serious about our work without being serious about ourselves. Stay focused in order to be there when your coworkers and the clients need you most. And should you feel your energy fading, try this surefire remedy; find someone who needs a helping hand, a word of support, or a good ear–-and make their day.
Benefits
Our Board of Trustees and Management Team realize the critical role that employees at Merrick, Inc., have in delivering the best supports and services. In order to recruit and retain talented employees, Merrick offers:
Competitive wages;
Health, Dental, Life, and Long-Term Disability (full-time employees);
403(b) retirement plan with a 3% match;
Job performance-based wage increases;
A generous paid time off schedule (prorated for part-time employees);
Ten paid holidays per year (prorated for part-time employees);
Desirable work hours and days (Monday-Friday, daytime hours); and
Paid training, promotional opportunities, and other benefits.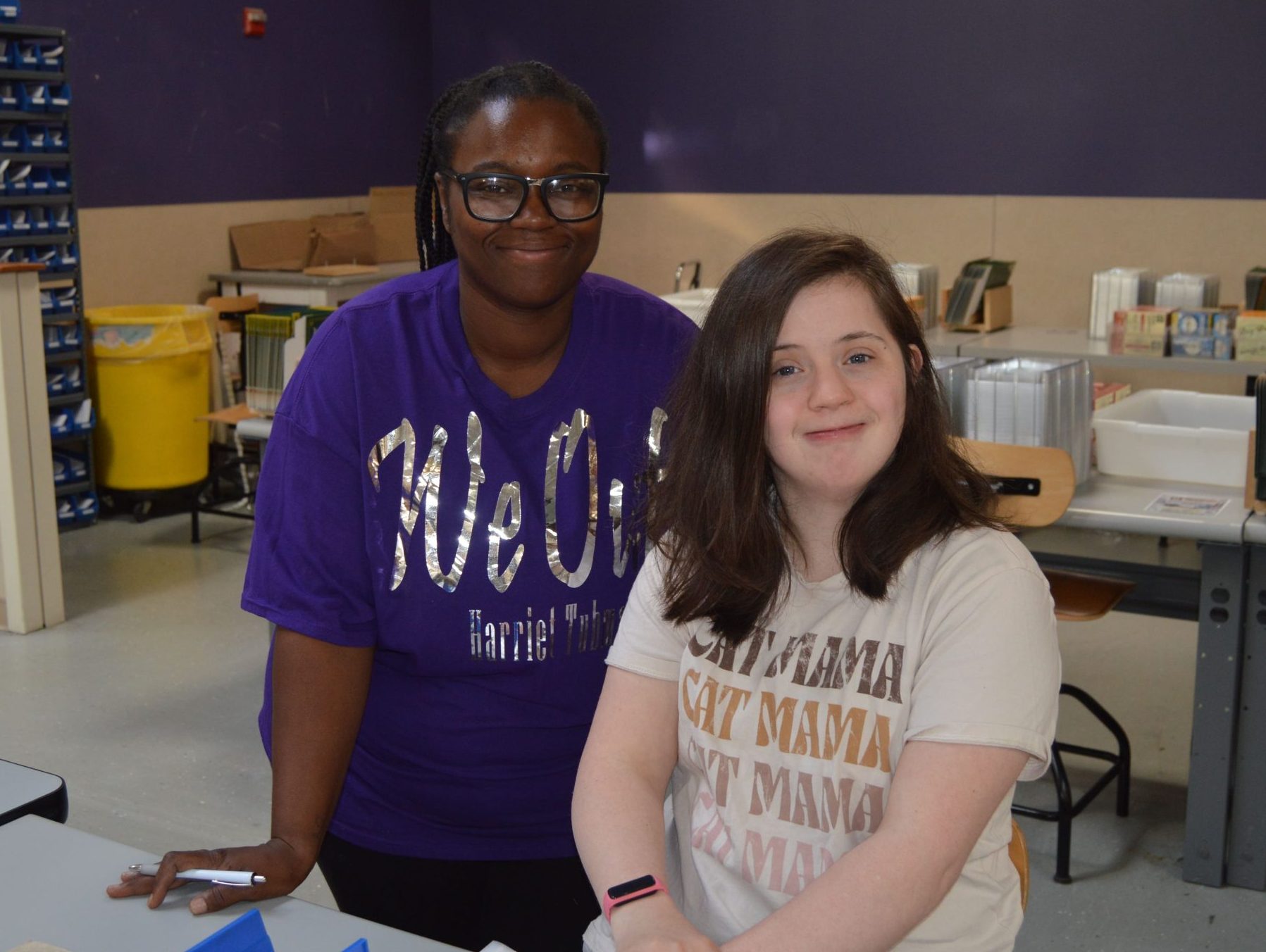 Rosa (left) and client at onsite production facility
Merrick, Inc., is an Equal Opportunity Employer
Merrick, Inc., is an Equal Opportunity Employer committed to the principles of diversity and inclusion. We care deeply about diversity in hiring and professional development, as our employee demographics represent the clients we serve. As an affirmative action employer, we actively seek and encourage applications from women, black, indigenous, people/person(s) of color (BIPOC+), persons with disabilities, and individuals with protected veteran status.
Employee Testimonials
Read what employees are saying about Merrick.
"Seeing clients progress and get to where they want to go is so amazing. Getting to know them and help them work is so unique and incredible."
Rita Bauer, Direct Support Professional Utility Services Intern
"The most impactful part of my job is being able to work on job skills with clients and being part of their development."
Parker Nelson, Direct Support Professional Utility Services
"Clients are so amazing and fun. The staff is always here for you and willing to help when needed."
Rachel Thalin, Direct Support Professional Utility Services