A Man of Many Goals | Mike's Story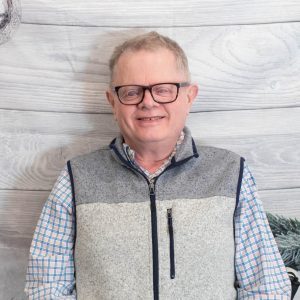 Published November 13, 2023
At one-tenth of a mile long and spacious enough for two wheelchairs to easily pass by each other, Merrick's hallway is a common thoroughfare for clients. Some use it as an exercise route while others use it to practice using a walker or other mobility device. Few can say for certain that they could navigate the wide hallway blindfolded. Mike is one of those few. Only he does not have to wear a blindfold to prove it.
With only his white cane for assistance, Mike moves about Merrick's main program site with relative ease leaving a wake of positivity behind him. Every morning, he arrives on the bus and makes his way to his workstation in Utility Services while being sure to greet everyone he comes across with a friendly "How are you doing?" or a congenial "Good morning!" Then, every day at lunch time, Mike heads to the Commons and sits down at the same table to enjoy lunch with the same group of coworkers. He even knows where to dispose of his trash when he's finished eating! On Wednesdays, Mike will make his way from his workstation to the large Flesher Conference Room on the opposite side of the building for his weekly Self-Advocacy meeting. And he does it all with minimal help from staff.
Merrick DSPs are repeatedly impressed with Mike's navigational skills, especially those that have known him the longest. Because they know that what seems to come naturally to Mike now, in fact, did not come naturally at all. It required lots of practice, frequent encouragement, and a strong dose of determination on Mike's part. And through it all, Mike never doubted that he could do it. That's just not how Mike thinks. For Mike, it was never a matter of whether or not he could do it, it was just a matter of when he would.
When he's not impressing everyone with his navigational skills, Mike spends most of his workday in Utility Services where he does light assembly and packing jobs. Just as he's mastered the art of navigation, Mike has mastered every job that has ever come his way: packaging x-ray bags, assembling rivets, or packing airplane headphones back in the 90s, just to name a few. These days, it's in packing greeting cards where he finds the most reward. Even without the use of his eyes, Mike is one of the fastest card packers at Merrick. His current record is packing 53 jigs, or 636 cards, in a single day, but he believes he can do better. In fact, it's his goal.
At the end of each day's shift, Mike uses his accessible cell phone to calculate how many cards he's packed and how much money he's earned. He might even check his voice mail to see if he got a message from his sister or send her a quick text. However, just as with navigating the building, his DSPs remember a time when using his phone was a challenge for Mike, a challenge he was not afraid to take on in the slightest. But that's Mike. He's never been one to let his disability stop him or get him down. And by the looks of it, that doesn't seem to be changing anytime soon.