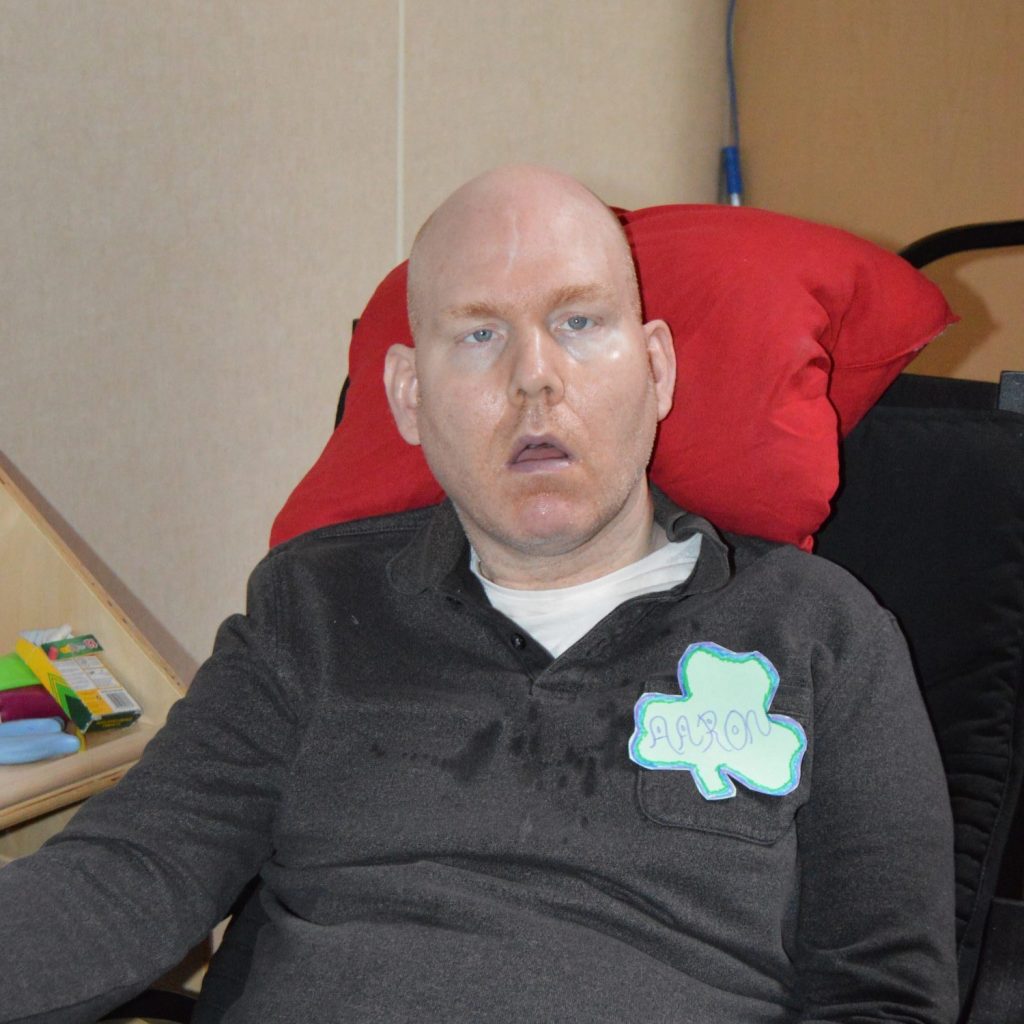 Aaron loves cookies. They are his favorite treat, and he isn't afraid to let you know when he wants one. He will repeatedly make the shape of a circle with his fingers (likes he's holding a cookie), and after placing his finger tips on the palm of his other hand, will make a twisting motion. However, Direct Support Professional Corey sees right through Aaron's mischief. In response, she will raise both her hands, palms facing up, wiggle her fingers and say, "Wait." Seeing this, Aaron will stop, but he isn't one to give up so easily. A couple minutes later he will be back at it again. This interactive communication would not have happened six years ago.
Prior to enrolling at Merrick, Aaron was employed by a program where American Sign Language (ASL) was not used, not even with Aaron who is deaf. When he was first hired by the workshop, staff tried to teach Aaron some simple work tasks, but such tasks never held any interest for him. They eventually switched Aaron to sensory activities but sign language was out of the question. All that would soon change as it was around this same time that the workshop announced its intention to close.
In light of this news, Aaron's mother, Sue, visited several programs in search of a new service provider. During her initial tour of Merrick, Sue was impressed by how in-tune staff were to clients' needs and preferred communication styles. Shortly after enrolling Aaron at Merrick, Sue knew she had chosen wisely. Whereas staff at the workshop were reluctant to use sign language, the staff at Merrick used sign language with Aaron from the very beginning and even branched out into less explored forms of communication such as picture boards.
These days Aaron's time at Merrick is spent engaging with a plethora of life enrichment activities such as jigsaw puzzles, coloring pages, and horticulture therapy. One of his favorite activities is playing catch. Except he doesn't play catch with a baseball. Aaron plays with a large bright pink ball with white polka dots and makes little sounds of delight as he watches the ball fly through the air and bounce off his outstretched finger tips. Aaron's life isn't all fun and games though. Staff are continuously introducing him to new ASL signs, and most recently have been focusing on teaching him staff name signs.
After five years at Merrick, Sue can definitely say she's noticed a difference. These days, Aaron is often described as laid back and easy-going, and that wasn't always the case. Now whether that's partly because he's not as young as he once was or because of Merrick, Sue can't say for certain. But she wouldn't bet against either.